Soon the way product information displayed on food and drink items is going to change by law. The new regulation will apply to all businesses involved in the process. The new regulation aims to make food labels clearer and easier to understand whilst improving nutritional and allergen information to consumers. It will apply to all food intended for the final consumer, such as ready meals, crisps, confectionary items and soft drinks.
The main changes are going to be Clearer allergen information on pre-packed food, a minimum font size for mandatory information, additional labelling for drinks that contain a high caffeine content, the or origin of vegetable oil, the indication of added water >5% and mandatory back of the pack nutrition information.
All major allergens must be emphasised on the labels. There are no less than 14 allergens that have been identified which are:
eggs
milk
fish
tree nuts (such as almonds and cashews)
sesame seeds
cereals that contain gluten, rye, barley, oats, or their hybridised strains.
crustaceans ( such as crab and prawn)
molluscs (such as mussels and oysters)
peanuts
soya
celery and celeriac
mustard
lupin
sulphur dioxide and sulphites (at concentration of more than ten parts per million)
If your products contain any of these ingredients you will have to make them more visible to customers and you can do this by placing the words in BOLD, italic, underlining or by placing them in a different colour.
Here is an example of how the current information is displayed and how it will look after December 13th.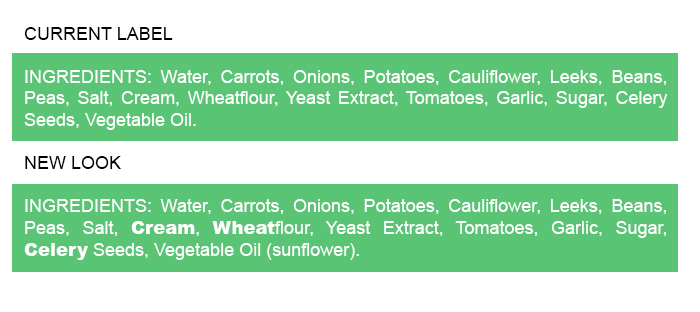 This will also apply to loose foods such as fruit and vegetables. Currently you can purchase fruit and vegetables without packaging in places such as supermarkets. However the new regulation states that information on any of the 14 allergens used as ingredients will need to be provided for these foods.
In addition to this there will also be a minimum size on text allowed on the label. This will be 1.2mm and applies to the following information:
Name of Food
Ingredients
Allergens
QUID (Quantitative Ingredient Declaration)
Net Quantity
Minimum Durability
Storage Conditions
Name & Address of Food Business
Country of Origin
Instructions for Use
Alcohol content
NUTRITION
To give you an Idea of what this will look like are some examples of the most popular fonts used and the minimum size that will be allowed.
For more information you can contact our sales team direct on 0845 222 0354 or email us at sales@etiquette.co.uk